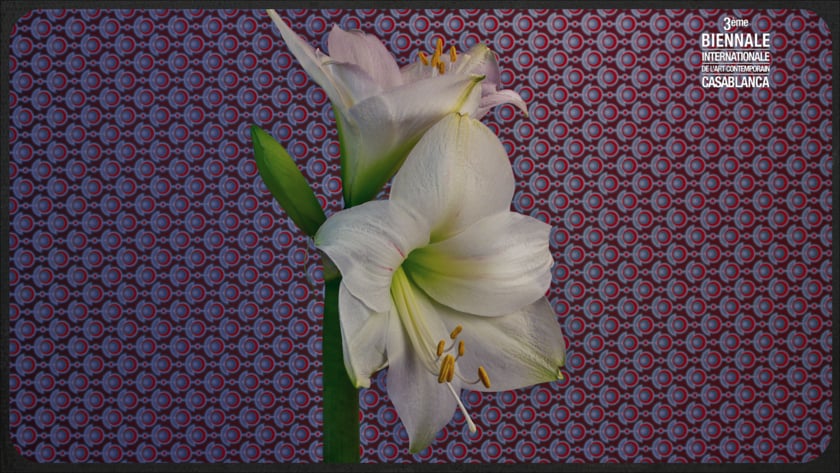 « Flowers » participated in the biennial internationale of contemporary art of Casablanca in 2016.
Exhibition: Colysee Lambersart Lille, for Azuma Makoto 東信
SYDNEY CHILDREN'S HOSPITAL ART PROGRAM
I created this video simply because I love nature. I always found the flower's timelapses fabulous, but most of the time they are made with a black background. Then I told myself to make a beautiful flower's timelapse with colored and vintage backgrounds. To me, the 60's / 70's is the most representative period for the flowers. This is a way to pay tribute to them.
4 months and 9624 shots 5K RAW (259 GO).
Here is the list of flowers that have been part of the video:
Pink wedding flowers | 353 pics, interval 11 minutes
Pink | 248 pics, interval 13 minutes
Purple Lilies | 246 pics, interval 8 minutes
White Amaryllis | 343 pics, interval 8 minutes
Red Lilie | 353 pics, interval 8 minutes
White Amaryllis | 305 pics, interval 6 minutes
Pink Lilie | 649 pics, interval 10 minutes
White Hyacinth | 332 pics, interval 8 minutes
Red Amaryllis | 340 pics, interval 9 minutes
Whites Amaryllis : 370 pics, interval 8 minutes
Orange Lilies | 342 pics, interval 10 minutes
Alstroemeria | 555 pics, interval 10 minutes
Blue Iris | 346 pics, interval 8 minutes
Daffodils | 417 pics, interval 5 minutes
Freesia | 612 pics, interval 10 minutes
White Lilies | 503 pics, interval 10 minutes
Pink Hyacinth | 636 pics, interval 7 minutes
Red Amaryllis | 259 pics, interval 8 minutes
White Lilie | 249 pics, interval 10 minutes
Tulips | 1379 pics, interval 5minutes
Amaryllis (Nymph) | 787 pics, interval 8 minutes
Directed by:
Ekitaimacro | Thomas Blanchard
Music by:
Linda Scott | « Three guesses »